We all have our favorite "go to" stash of scrapbook supplies that we turn to everytime we make layouts/pages. It could be a couple of kits from a favorite designer, or maybe just a few papers here and there, or a favorite type of elements. Polka Dot Chicks are making scrapbooking so much easier for all of us, with packs of papers, elements, templates, and awesome kits. This week they have 3 packs of papers and a pack of 6 templates ready for you at the MouseScrapper store. I am sure you will love these new products, and they will quickly become part of your favorite "go to" stash!
Magical Basics: Cardstocks 1
- 30 shabby textured cardstocks in a rainbow of colors are the perfect building blocks to your layouts and perfect to have the basics in your stash.
Includes: 30 shabby textured cardstocks in a rainbow of colors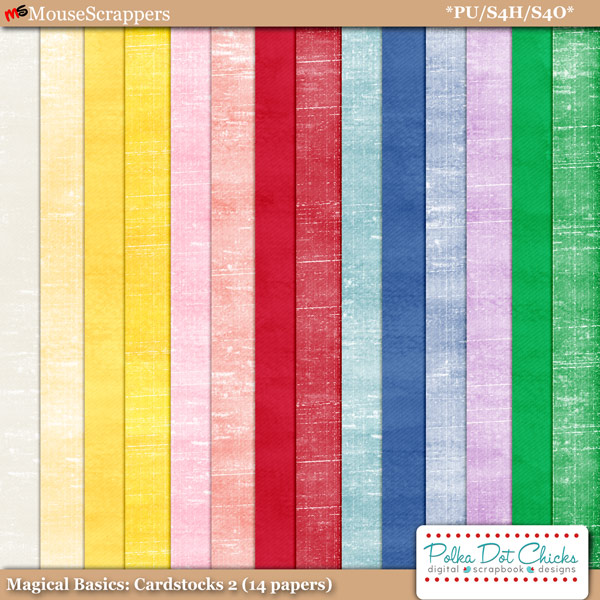 Magical Basics: Cardstocks 2
- 14 more shabby textured cardstocks with slight pattern in more primary disney colors that will be a great addition to your stash.
Includes: 14 shabby textured cardstocks
Magical Basics: Neutral Cardstocks
. Do you struggle finding the perfect neutral background paper? Well this pack is for you. 18 neutrals ranging from white - black (includes white, black, grays and browns/beige)...there is a wide range of shades and textures but with a shabby feel.
Includes: 18 neutral cardstocks
Magical Templates 2
- the next set of templates! These templates are easy to use and include the psd, jpg and the pngs for each template. Based on some of my own layouts, I decided to make them into templates.
The best thing about templates is how you can change the look very easily by turning off a layer or two or flip them around and change the orientation. You are only limited by your imagination.
Includes:
6 12x12 psd templates
6 12x12 jpgs
pngs for each template in their own folder