Messy Stamps #1
- This pack includes 6 messy stamps, each with a beautiful compass rose added for a little extra interest.
These messy stamps would be wonderful in your art journals, blended into the background. You can use various blending techniques or add some color for extra effect. They would also look great in your scrapbooks and other art.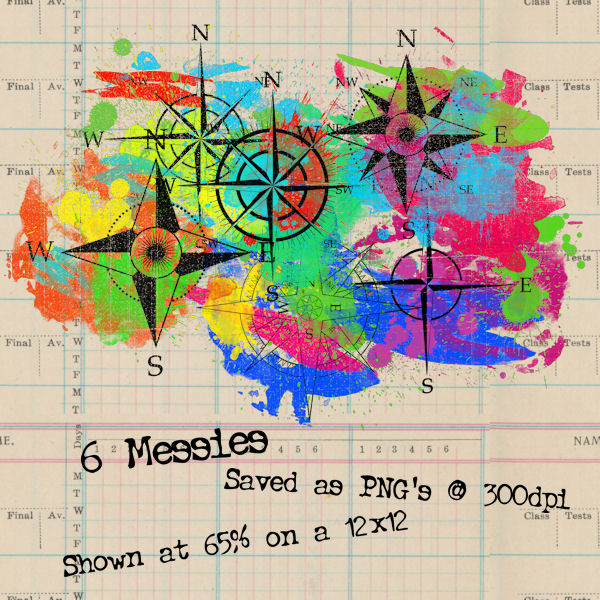 Art Journal Messies 02
- This pack includes 6 Messies.
These Compass Rose Messies are awesome for blending into your backgrounds. I have chosen to use some bright colors, because those are the colores I like to use in my art journals. You can always 'mess' around with blending and transparency to get the effects you like. And if you use a software that has a 'Hue Map' feature, you can change the colors individually.
Pack 09 - For Less
- This pack includes 10 printed papers.
I always talk about how you can use print (newpapers, old books, maps, etc) as journal fodder for adding texture or interest to a page. But let's be real, it is not always easy to find something that we want to tear up to use in our art. I thought it would be a good idea if I scan up some old prints (newspapers, music sheet, etc) and share with you. I do realize you will not get the texture you would with "real" papers, but the good part about these are you can use them again and again, and you wont feel bad tearing them up.
Each page is 8x10.5 inches. Perfect for printing. Saved as JPG at 300 dpi.
The pack includes a total of 10 different pages.
4 newspaper pages
2 magazine pages from 1876
2 music sheets from 1800's
2 map papers
This pack was previously given to members of Art Journaling for Less for the weekly member download. You can learn more about Art Journaling for Less
HERE
Hillside Art #1
- The first kit in the Hillside Art series.
This kit will work great for art journals, scrapbooks, card making, and more.
Kit includes: 5 papers and 15 elements.