This is the big announcement! Polka Dot Chicks and Altered Junk will be selling at
Scrappity-Doo-Dah
- right now we are putting most of the Altered Junk (not all as we did retire quite a bit) and new Polka Dot Chicks PU kits there that are not disney inspired!
So here is what is up as of today plus a Grand Opening sale! Go
HERE
to see this great shop and the other designers and CT are just great! The forum is bustling with activity and challenges and it's a great welcoming feeling!
There are some changes with some of the Altered Junk - Inger (Soto Creations / Twisted Scrapper) and I decided to combine items and kits that went together. So we will be letting you know what those are if certain things changed. Some we just changed the name.
Grand Opening Sale - discount will show up in the shopping cart.
Circus
- Do you enjoy the circus? Well this circus kit is perfect for you and if you enjoy altered art - then you will really enjoy this kit and all that if offers - it's perfect for you art journals, altered art projects (hybrid too) and regular scrapping.
Includes:
(2) uppercase alphas
16 papers
42 elements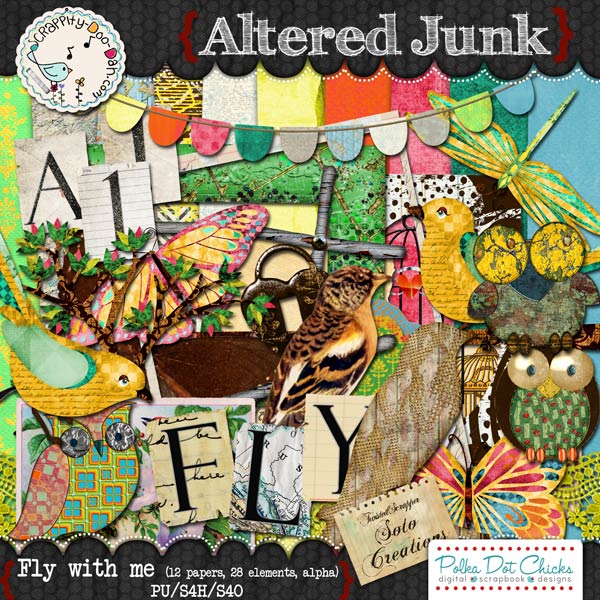 Fly with Me
- Birds, owls, butterflies and dragonflys oh my! This altered kit is all about those little critters that fly - this is sure to jazz up your altered art pages or journals!
Includes:
Alpha - Uppercase/numbers
12 papers
28 elements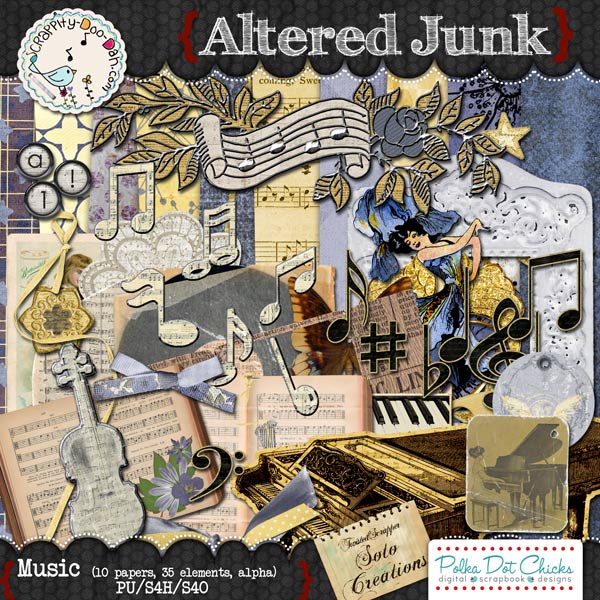 Music
- Do you love music? I do. Tammy's oldest son is a music teacher and gifted singer. So in that spirit we made this altered music kit perfect for your altered art, art journals and scrapbooking layouts!
Includes:
Alpha - Lowercase/numbers/punctuation
10 papers
35 elements
Ladylike
- To be a lady! WOOHOO! This kit is full of hand-painted papers and some elements and darling vintage lady cutouts. Again perfect for all your altered art and altered journals.
*formerly 2 separate mini kits - mixed up 7 and mixed up 8*
Includes:
6 papers
20 elements
Grunge
- This is all about grunge! With grungy papers and rusty grungy elements - this would be great for altered art pages or for manly pages.
*Formerly called kit 2 and alpha 1, mixed v.14 and smudges have been added to this kit*
Includes:
Uppercase Alpha
15 papers
1 stacked paper
42 elements
Check out the new store at Scrappity-Doo-Dah